Explosion-proof lamp
Product
Explosion-proof lamp
merchandise quantity:
Please select the specification first
Description of hazardous environment for dust and gas at all levels::
In order to ensure the safety of factory and labors in the workplace, the Ministry of Labor stipulates that some fields require the implementation of explosion-proof lamps that have been inspected and certified by credible parties. According to the statistics of EPA (Environmental Protection Administration), the calamities in workplace are attributed to flare of electrical appliances (22%) and high temperature on surface (11%) Together, it accounts for 1/3 of total。

In terms of combustibles, there are two categories as follows:
1. Flammable gases, vapors, and liquids
2. Dusts, and flying flocs.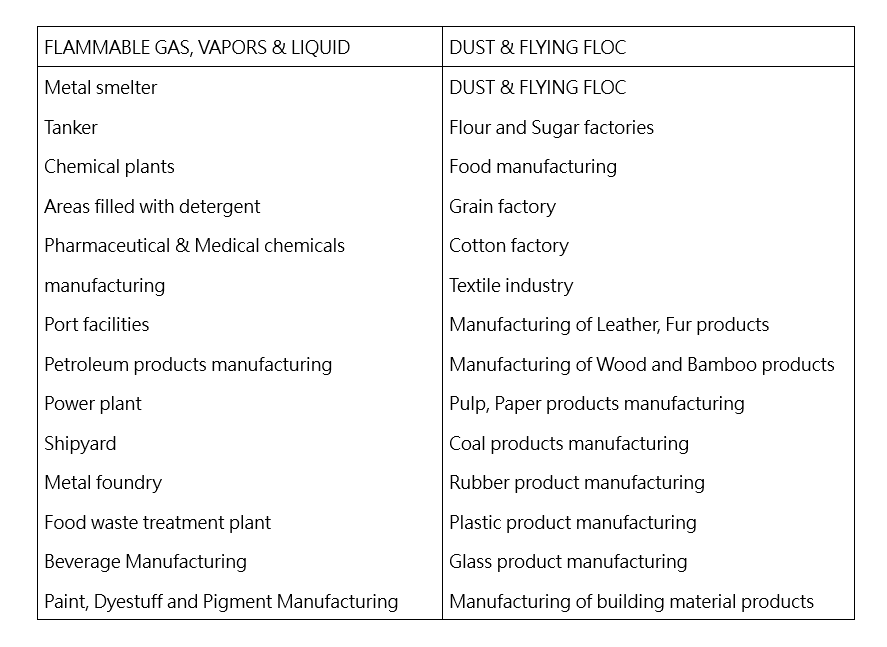 Hazardous locations according to environmental conditions
Hazardous place contains sufficient mixture of explosive gas and vapors to cause explosion or burning. According to the time and concentration of the dangerous gas, it can be divided into three levels:
ZONE 0 PLACE
1. Hazardous gas is continuously generated,
2. There is a risk of continuous occurrence of dangerous gas The concentration of explosive gas continuously maintained or lasted for a long time is above the lower limit of the outbreak.
ZONE 1 PLACE
1. Under normal conditions, explosive gas will be accumulated over dangerous concentrations.
2. Leaks during repair and maintenance works cause frequent explosive gas accumulated over dangerous concentrations.
ZONE 2 PLACE
The leakage of flammable gas or liquid is stagnant under abnormal conditions such as damage to a container or piping device, or an operation error. There is a risk of danger attributed to accumulated hazardous gas.
1. Frequently used dangerous goods are sealed in containers or equipment, only when the container or equipment is broken or damaged, or leaked out due to wrong operation, and there is a risk of reaching dangerous concentrations.
2. Thanks to certain mechanical ventilation device, explosive gas will not accumulate.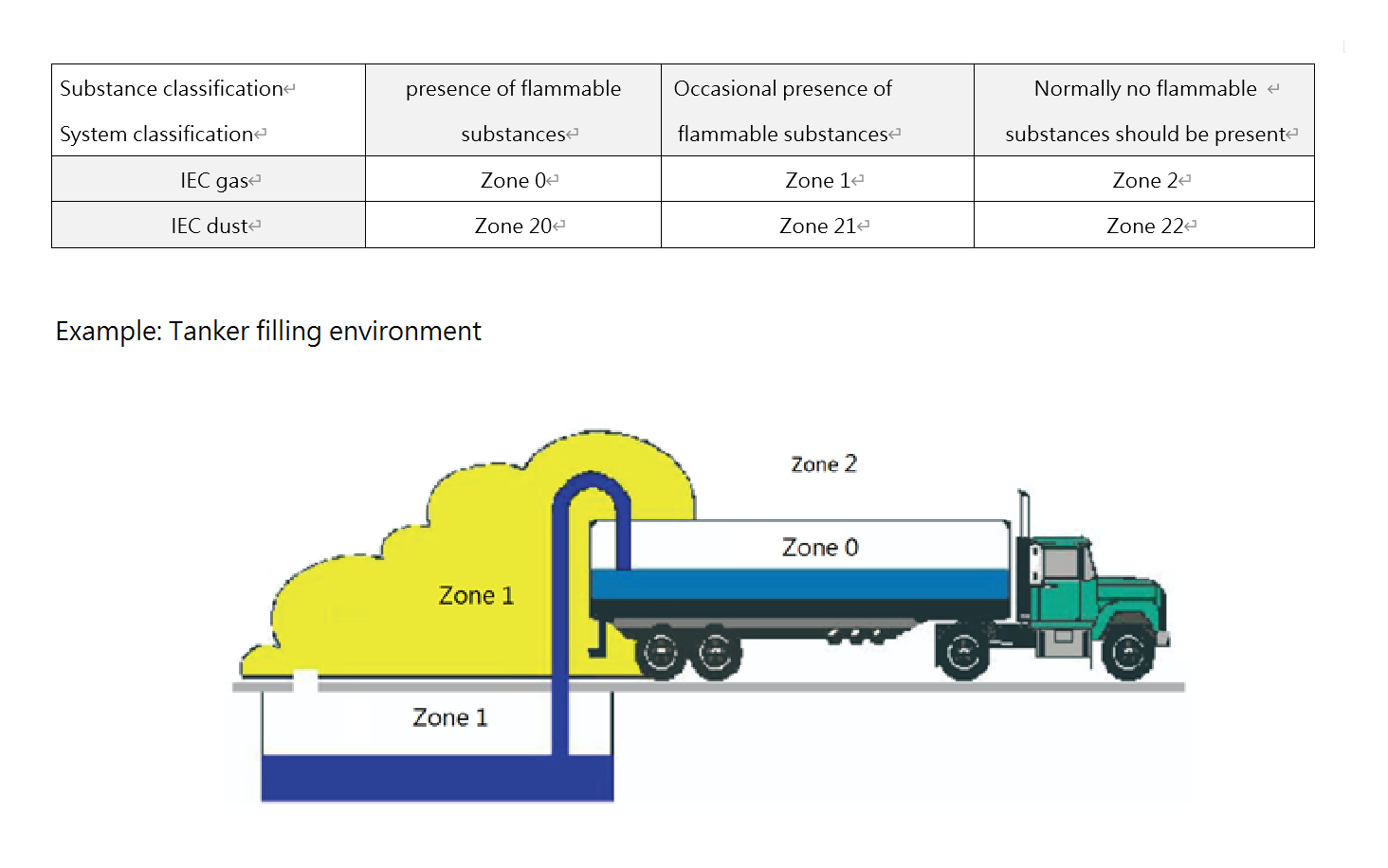 ITRI follows the specification and code description
Most countries in the world have their own explosion-proof specifications, mainly categorized into two major systems:
1. ZONE system stipulated by IEC and ATEX(EU) Taiwan is currently adopting the system as the domestic explosion-proof standard.
2. CLASS/DIVISION system stipulated by UL and NFPA in North America.
Legal basis and regulations of Taiwan explosion-proof electrical and steam equipment
According to the provisions of Article 7 of the Occupational Safety and Health Act and relevant subsidiary regulations, explosion-proof electrical equipment shall comply with the safety standards specified by the Ministry of Labor. Manufacturers, importers, suppliers, and employers, should complete the application and registration of safety information marked on the products or packages before the goods are shipped out from the factory, imported, leased, supplied, or set up. The inspection certificate approved and issued by the Industrial Technology Research Institute can be used as the safety standard compliance documents for the declaration and registration. Explosion-proof lamps, explosion-proof motors, and explosion-proof switch boxes can only be registered with the domestic inspection certificate.